Message from National Clinical Lead for Neonatology
Forward
Welcome to all parents who have baby in the Neonatal Unit.  We appreciate that this a time of great concern and worry for you.
This new born information resource takes parents along the medical journey that their baby is experiencing.  There are a number of phases and steps along this pathway.  Each is described with a combination of pictures and explanations.
There is the early hours and days phase when the baby is undergoing a lot of treatments, procedures, and investigations.  Next there is the consolidation phase when the baby is lots better but still needing a high level of care.  This is followed by the convalescent phase where the baby is in a cot, moving from tube feeds to breast/bottle feeds, and getting ready to go home.  This is followed by the early-after-discharge phase when the baby is at home but the parents remain in contact with the hospital's support services and the Baby Clinic.  The next phase is the assessment of the baby's growth and development at the Baby Clinic visits.  Growth is the increase in the baby's size and development is the increase in the baby's complexity.  The final phase is a developmental assessment, called the Bayley's, at 2 years old for the babies who were either very preterm or very ill.
The information contained in this document represents the knowledge, expertise, and experience of a highly committed group of neonatal healthcare staff including doctors, nurses, dieticians, physiotherapists, pharmacists, psychologists, clinical engineers, and social workers.
The document was originally printed as a small booklet in the 1980s.  It has subsequently undergone 7 editions, its volume increasing at each reprint.
This current version contains the best national and international information on how to provide care for newborn babies.
We hope that you will the content both helpful and informative.
Dr. John FA Murphy
Consultant Neonatologist
National Clinical Lead in Neonatology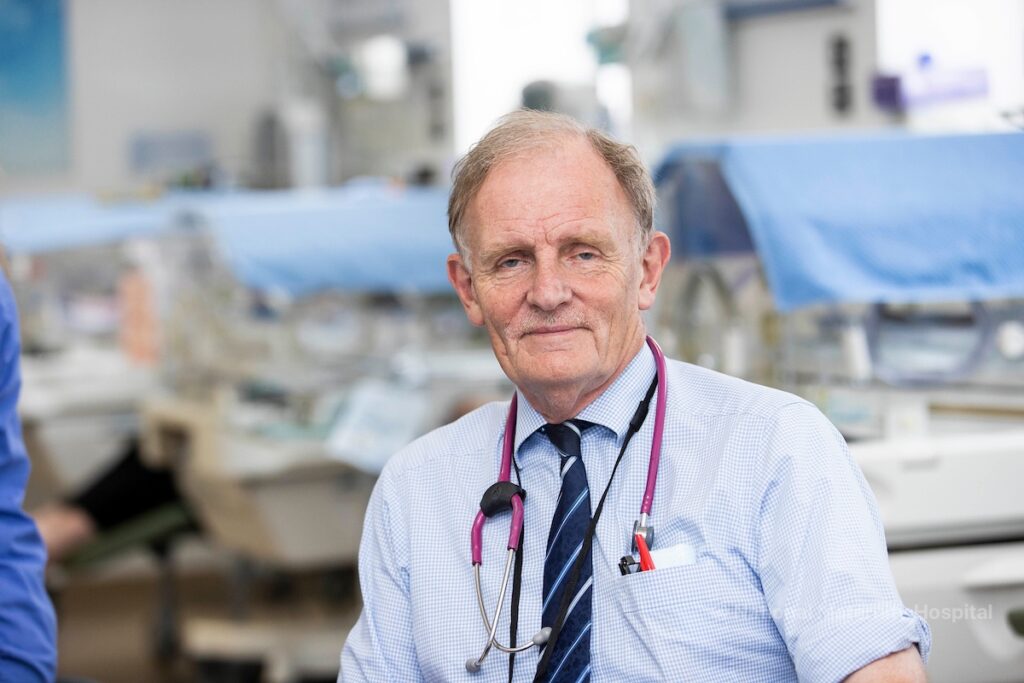 Photo – page 10 photo 2 - REQ consent - Oscar O'Connor ?H09014176 06/09/2009; Grace Collins – 7 years old in 2017?? Little girl born preterm at 28 weeks and little boy born at 31 weeks now 7 years old enjoying World Prematurity Day with Dr John Murphy, Consultant Neonatologist and National Clinical Lead for Neonatology