Alanna Quinn's story as told by her Mum Danielle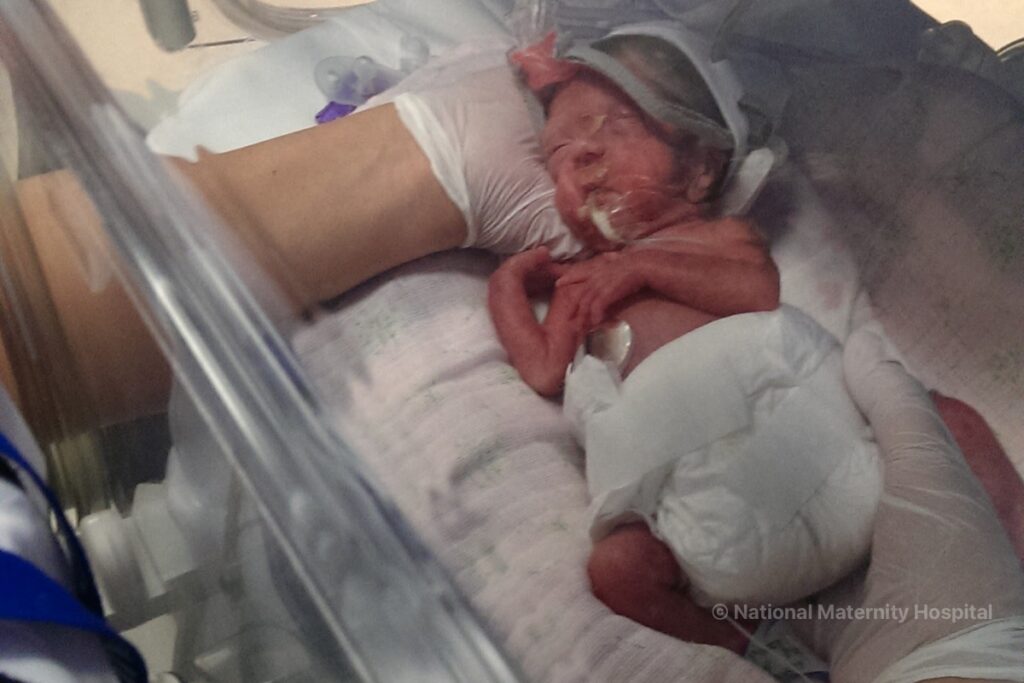 On the night of the 15th March, my whole world changed. I was 23 weeks pregnant and had been having twinges for about two weeks, which my husband Alan, and I thought were Braxton Hicks; I was attending the Pre-Term Clinic. That night, I was having terrible pains, so we went into casualty in The NMH in Holles St.
When we got up to the labour ward, I met Sally, the midwife and she reassured me that I wasn't in labour and said that they would keep me in for observation. To be on the safe side, I was scanned. The midwife asked me if I had been doing anything strenuous and I said I had cleaned the house on Monday; she thought maybe I had over extended myself. I went back up to the bed and rested.
Close to 7pm, one of the doctors from paediatrics called David came to see us. He explained to me about what might happen if our baby was born so early – I was just 23 weeks along. I was in floods of tears, all I wanted was to save my baby.
Alan went outside for a minute and my pains worsened. The nurse checked me and I was fully dilated! When staff realised that I was going into labour they gave me steroids for the baby's lungs, I only found out after that Alannah needed two doses over a 24-hour period in order for them to be effective, there was just no time!
At twenty-six minutes past eight Alana was born, she weighed just 585 grams. She was so unbelievably tiny. The nurses were incredible, I got to give her a quick kiss before she was whisked away. It was all so surreal, I will never forget it.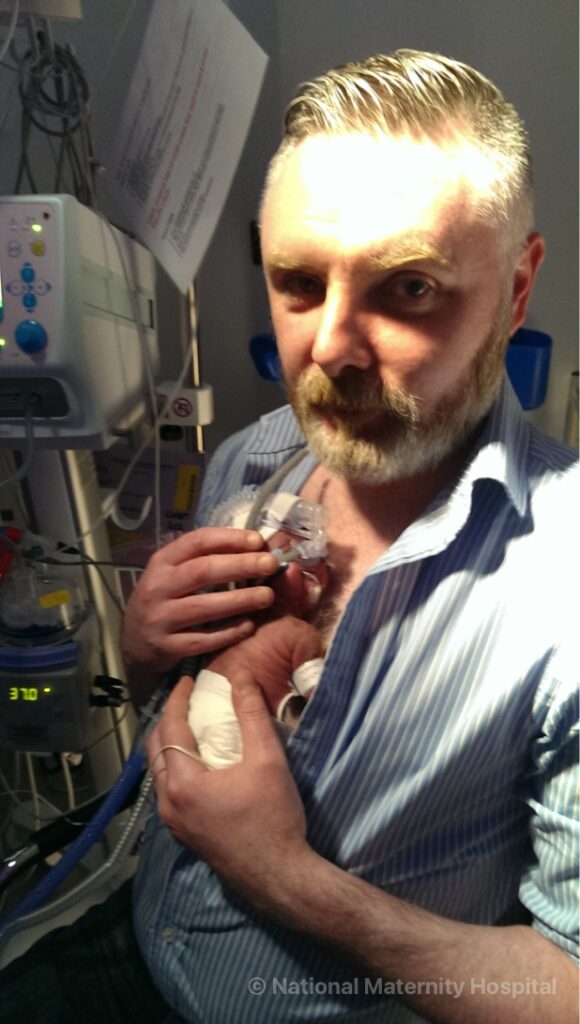 One of the midwives, Sally, who I met when I went into the labour ward, stayed with me throughout. Even though her shift had finished, she didn't leave me, I will never forget her for the care she gave me.
I was told that Alanna had only a 20% chance of survival. It was devastating news to get. My parents happened to be having dinner around the corner, Alan phoned them and they phoned the priest, who's my Mum's cousin and had married us four years previously. My parents came in. I had never seen my Dad cry before, he was sobbing.
I remember saying that she's fine, she's here, she's not going anywhere, she's here and from that moment that's all I ever believed, that's she's fighting and not going nowhere.
I was brought to NICU. It's frightening there with all the machines and alarms but the staff were incredible. I remember seeing Alannah, she was practically see-though and her little head was all bruised but she had a big head of jet black hair! It was so hard for me to watch her and not be able to touch her at that time.
The priest baptised Alanna.
I was discharged that Sunday and my life became just being at the hospital. I found it really hard that no-one congratulates you, no one says well-done, I suppose people are afraid to with premature babies.
The staff was brilliant; I cannot praise them enough. From the coffee shop to the cleaners to the doctors and the nurses, amazing! I could talk to any of them, often I was crying, they were just outstanding in their care of me.
Staff were super at helping me to be involved when Alanna was in NICU. They helped me to make it more of a home-cot than a hospital cot. The lactation nurse showed me how to pump and would help me to feed her, starting off with just drops of my milk through a syringe. I was able to freeze my milk, so that she got breast milk the whole time she was in hospital, that meant a lot to me.
Then one evening, I'll never forget it, I phoned as I always did before I went to bed and it was poor Dr. David again who had been there the night she was delivered. Alanna was about six weeks old then and he said that she had necrotizing enterocolitis, a condition some premature babies can get where the intestines become inflamed and start to leak into the tummy. It can be really dangerous but thankfully Alanna managed to recover.
At about eight weeks old, she developed swelling on the brain. The doctors thought they might have to do a procedure to relieve the pressure, fortunately they didn't have to. I was going to my brother's wedding around this time and they were incredibly reassuring that they would take excellent care of her for the day. It took a few days for the swelling to go down, but she made it through it and about seven blood transfusions as well as a platelet transfusion! She also had a hole in her heart, which lots of premature babies do and it took a few months for that to close.
As the weeks went by, we were able to help bath her. This was my favourite thing to do with her. I could help take her out and put her on a little trolley, bathe her, rub in coconut oil into her dry skin and massage her. I loved giving her little facial massages, she had CPAP for breathing support, we got to take that off, she still had to have oxygen going in, there are many pictures and videos of us doing this.
She didn't finish on oxygen until six days before we took her home. I used to talk to her, telling her it was time to come off it, so we could take her home.
The support at the hospital was second to none throughout it all. I met other mums of premature babies and the hospital used to put on a coffee morning for us every Tuesday morning in the family room. Here we could talk to each other, comfort each other and give each other hope. I made fantastic friends here and we are still in contact supporting each other.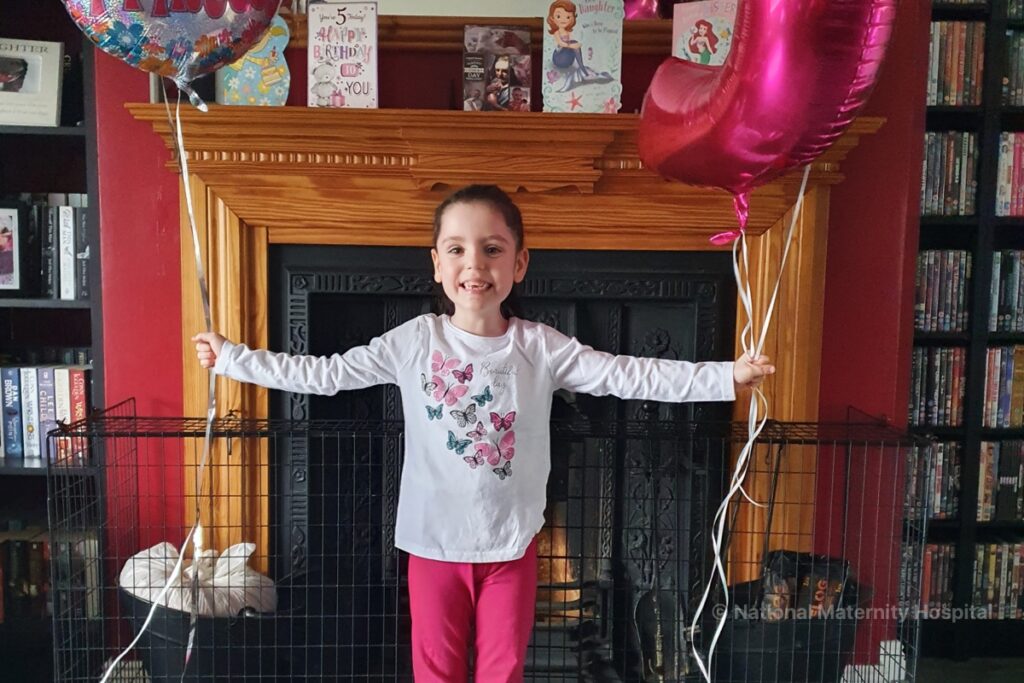 In NICU, there are letters displayed from previous parents, which really give you hope. I never allowed myself to believe that anything bad would happen to Alanna.
The whole team at The NMH do amazing work, they are the absolute best, we would have been totally lost without all the support and care they gave us.
Alanna attended Early Intervention until she was five and is still attending Temple Street for her eyes. They are not sure if Alanna has dyspraxia or whether it's to do with her prematurity. Now Alanna is 5 ½ and is doing great. She started school in September and is loving it.